You heard the name J.A. Cavalier? You should.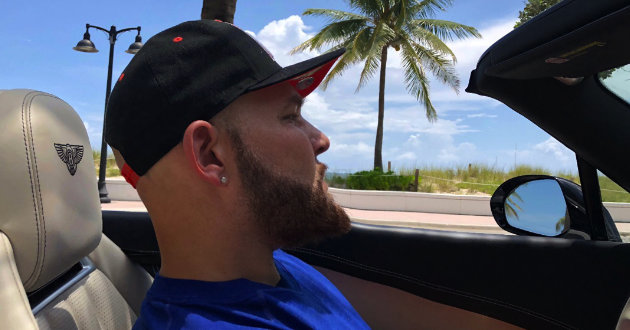 J.A. is a veteran in the sports handicapping game and has probably been on your radio at some time during the last 20 years. He's one of the names to know in this business.
Cavalier had a good upbringing in Astoria Queens, New York. He had a chance to play college football at major college programs.
He has been in the sports handicapping business really since he was a young kid. He was around his father and uncle who bet on games. His grandfather was a local bookmaker. He owes his love of sports wagering to his father.
"I got my work ethic from my father," Cavalier said. "He busted his ass working 3 jobs to not only support the family but also to fund my sports. Football and baseball equipment isn't cheap. Yet I always had the Bike helmet and the newest gear."
Getting into the industry was kind of a calling. Some Catholics grow up and feel a calling from God to become a Priest or a Nun. For J.A. that calling was met at the intersection of his family background and a chance encounter.
"I didn't decide, it recruited me," Cavalier said. "I always dabbled with sports betting. At 19 (years old), I was sitting on a park bench with some friends and I heard a whiny little voice saying, 'hey kid can you play softball? We need players.' Being the athlete I am, I obviously dominated the game and was asked to join the team full time.
"The whiny little voice was a legend and one of the grandfathers of the sports betting industry. Some may consider the god father of the sports information industry. I loved the job and excelled at it. What could be better for an athlete who was also a degenerate gambler? Talking sports all day and making thousands a week at 19?"
J.A. is like many of us who have placed bets on games. There are highs and lows. There are good streaks and some that make you question why you're putting your money towards this effort.
Just a couple of Cavalier's largest wins that he points to over the years, are the Milwaukee Bucks winning the NBA Finals last season and Tim Tebow leading the Florida Gators to a BCS National Title in 2008. The wins are great for sure.
But how does Cavalier handle when the losing is becoming more common than the winning?
"That's actually the one thing and probably the only thing about this business I could never get comfortable with," Cavalier said. "The losing. The bad streaks are always going to come, no matter how good one is. Believe me I am the best, yet you can not avoid bad runs.
"I would break things. Look at the scores after the game as if something would change. I have thrown several remotes through Television screens on bad beats. I would say you get use to it, but you never really do."
Sports wagering is not legal in the state of Georgia just yet. But, it seems that could only be a matter of time, before that comes to fruition.
Cavalier believes there is some good that could come with the expansion of sports betting across the country. But like with everything, there could be a downside that hurts some.
"Of course, business continues to grow and I expect it to keep growing as more states legalize," Cavalier said. "The downside is some are playing who have no business doing so. I have always stated this should be in addition to! You should be playing with play money, extra money, You should not be playing with rent money or your mortgage payment. Again, with your head, not above it!"
Seems like pretty sound advice from the man who grew up at a very early age. He married young and had kids at a young age. His oldest child is already old enough to make their own bets, 21.
Cavalier like many of us grew up with a rooting interest in teams. Despite being in New York Giant/Jet country, he chose the hated Dallas Cowboys to pull for every fall weekend.
But as life goes on and more years passed in this industry? J.A. left the allegiances to individual teams behind.
"I am now a fan of whatever team is on my ticket and my allegiances change on a nightly basis," Cavalier said.
J.A. Cavalier is like many of us, a sports fan. He's got his highs and lows. But, he always wants to make sure he's not making those mistakes into larger ones.